Rocco Scott-Braxton
Gender
Male
Family
Heath Braxton

(father)

(mother)

(uncle)

(uncle)

(Uncle)

(half-brother)

(half-sister)

(Cousin)

First Appearance
7 June 2012 - 5 October 2012
Portrayed by
Various babies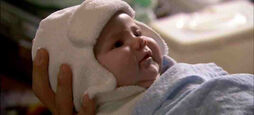 Rocco is Heath Braxton and Bianca Scott's son. Bianca and her husband, Liam Murphy thought it's theirs, until Heath asked Bianca if the baby is his, but Bianca denies it. But April found out the truth about who is the baby's real father, it's Heath, not Liam's. Which causes for Bianca and Liam to divorce.
Storylines
Rocco was born prematurely by caesarean section after Bianca developed pre-eclampsia. Rocco is placed into an incubator and visited by Heath and Bianca. Rocco develops jaundice and he has a fit, causing him to need a blood transfusion. Rocco remains in hospital, after Bianca is discharged. Eventually Bianca and Heath take Rocco home, but he develops meningitis and has to be rushed back into hospital. Shortly after he is discharged, Rocco dies from sudden infant death syndrome. Bianca struggles to cope her son's death and was taking drugs and pushed her friends and family away when they tried to make her remember Rocco. But April convinced her and she remembers Rocco. Two years later, Heath came to visit Rocco's grave with his new son, Harley so that Harley gets to know Rocco. Heath tells Rocco that he's leaving Summer Bay to live in the city with Bianca. Heath and Harley leaves and that Heath made a promise to Rocco that he'll come back and see him very soon.