Harley Braxton
Residence
Sydney
Gender
Male
Family
Heath Braxton

(Father)


(Mother)

(Step-mother)


(Half-Sister)


(Half-Brother)

(Grandmother)


(Grandfather)

(Uncle)


(Uncle)

(Uncle)

(Cousin)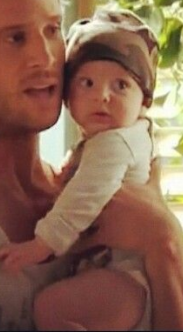 Harley Lockwood-Braxton was born on the beach to parents Heath Braxton and Jess Lockwood. Jess names him Harley as she thinks he's already a tough cookie and Heath jokes that Harley will be a biker baby. After Jess finds out she has cancer and is dying Heath takes full care of Harley as Jess needs to look after herself. Harley's three uncles are Darryl Braxton and Casey Braxton and Kyle Braxton. Harley has a paternal half-sister, Darcy Callahan, deceased paternal half brother, Rocco Braxton, and a grandmother Cheryl Braxton, who says he is very much a Braxton when he lets out a loud cry when they first meet.
Character
Little Harley will grow up never knowing his mum after she gave him up to his father Heath, not wanting her beautiful baby boy to be around when she dies. Harley goes on to live with Bianca and Heath. When Bianca refuses to to bond with her stepson, Cheryl tells her off for being selfish, as she will always have Heath and her family but if Heath gives Harley up for her Harley will grow up with no parents, thinking his father didn't care. Bianca realises she has to accept that Harley will be part of Heath's life no matter what.
Birth
Harley was born in Summer Bay on the beachfront. He was delivered by Doctor Nate.