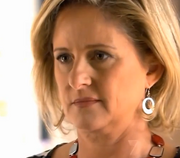 Gina Austin is a past Home and Away character.
Plot Outline
Upon her return she becomes The Gym's Secretary and falls in love with another character. She doesn't reveal who the character she's in love with but he's Celeb who she likes.
Ad blocker interference detected!
Wikia is a free-to-use site that makes money from advertising. We have a modified experience for viewers using ad blockers

Wikia is not accessible if you've made further modifications. Remove the custom ad blocker rule(s) and the page will load as expected.