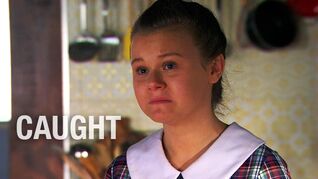 Eloise Page
Occupation
Student
Residence
Pier Flat
Gender
Female
Family
Gray Page (father)
Mrs Page (mother)
Matt Page (brother)
May (aunt)
First Appearance
27 March 2014
Portrayed by
Darcey Wilson
Eloise "Elly"
Page
is Matt's younger sister and Gray Page's daughter. Elly made her first appearance on the show in March 2014 and departed in October 2014. In August 2016, Elly returned to the show, when she wanted to live with Matt, after her aunt, who had full custody over her mistreated her. Elly is also friends with
Raffy Morrison
.
Storylines
Elly is Matt Page's younger sister. Sasha Bezmel meets Elly when she comes to check up on Matt, who is looking after her. After Elly and Matt's father goes back to prison, a neighbour contacts the authorities to take Elly into care. Matt takes her to the diner and Sasha looks after them. She convinces Matt to let Elly go into care, as it will be better for them both.
Elly's father, Gray, comes to Summer Bay and takes her out of her foster home for the day, so she can spend time with him and Matt. Gray is later arrested for taking Elly without permission, and she is returned to the care of her aunt, May by Mike Emerson and Matt. Two and half years later, Elly runs away to the Bay, where she begs Matt to let her stay with him and Roo Stewart. Elly starts at Summer Bay High, but struggles with her studies due to dyslexia. Evelyn McGuire becomes her tutor and Eloise initially refuses her help, and lied to Matt that Evelyn left her, but she later apologises and accepts Evelyn's help with her homework and thinks that Matt will have Evelyn as his girlfriend, but Evelyn told her that she likes Matt as a brother.
Elly met with Raffy Morrison and they became best friends. When Raffy ran away, Raffy's brother, Justin Morgan asked her where is Raffy and Elly told him that Raffy has gone to the city to find her father Atticus Decker.
Trivia
Elly's portrayer, Darcey Wilson stars in a 2017 science fiction film Neurogenesis with two of her former Home and Away co-stars, Nic Westaway and Marlo Kelly, who played Kyle Braxton and Skye Peters.
Darcey Wilson and Home and Away star, Anna Cocquerel, who plays Coco Astoni starred in Over the Hills and Far Away in 2014.
Ad blocker interference detected!
Wikia is a free-to-use site that makes money from advertising. We have a modified experience for viewers using ad blockers

Wikia is not accessible if you've made further modifications. Remove the custom ad blocker rule(s) and the page will load as expected.